ZJLY's Parts Dept. is composed of parts procurement, warehouse and 11 branch parts points. Average parts storage amount is over 10 million RMB. Storage management has already attached to international logistics level, providing warehouse to warehouse delivery service. OTD Ratio (On Time Delivery) is over 95 per cent. "Care Kits, Care Track", we focusing on providing Volvo quality parts and reducing usage cost.

Volvo Filters – a wide product range
Filters from Volvo are the best choice for your construction equipment. You can expect high-quality parts, for your safety and economy. Regular service and maintenance at given intervals, together with Genuine Volvo Parts, ensure the reliability and profitability of your machine.
We have a complete range of filters to match your needs:
· Engine oil filters – protect the engine from damaging particles minimizing bearing wear
· Fuel filters - protect the fuel injection system
· Coolant filters – trap contaminants in the cooling system and protect your engine
· Air and safety filters - protect the engine from harmful articles
· Cab filters – specialized filtration media to keep the operator environment safe
· Hydraulic oil filters – prevent damage to the hydraulic systems, avoiding disruption and maximizing operating time
· Breather filters – reduce the danger of contaminants entering the oil system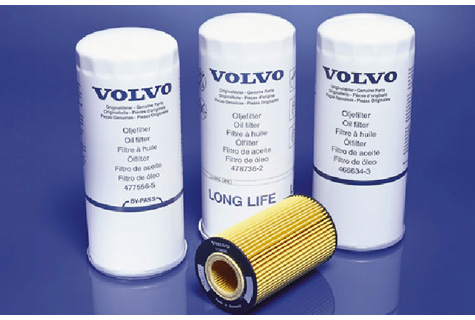 High quality and low operating costs
The media used in Volvo filters is manufactured from high-quality cellulose fibers. We mix fine and coarse fibers until the filter media has the exact level of purification and capacity which every type of filter needs. The filter media is impregnated with resin to prevent it from being dissolved by moisture, chemicals and oil. As well as providing a high level of purification from the outset, Volvo filters also have a very high capacity. This means few replacements and low operating costs.
Volvo Filters – your best choice
Genuine Filters from Volvo make sure that your Volvo construction equipment stay in peak condition. They are specifically designed to work perfectly with your Volvo machine. Choose Filters from Volvo if you want top productivity, profitability and safety.
Filters are important parts of your construction equipment. They have to clean fluids and air from dirt and impurities. Effective filters ensure optimal function and operating safety.

Please make sure to change your genuine Volvo filter at recommended intervals. This may prevent premature component repairs or replacements, a small investment that lowers your total cost of ownership! Volvo filters work in the most demanding conditions. They always have:
· High cleaning efficiency that is matched to engine, transmission and hydraulic system.
· High dirt capacity which gives long change intervals, without impaired function.
· Filter elements of the highest quality.
· Stable corrosion-protected casing.

Please contact your Volvo dealer for more information about Filters and how to maximize the performance of your Volvo construction equipment.
· Introduction
· Care Kits
· CareTrack
· Customer support agreements
· Expander bolts
· Filters
· Genuine Volvo Parts
· Lubricants
· Undercarriage Parts
· Performance Parts
· Volvo Hose Service
· Volvo Tooth System
· Software Options
· Announcement
· Volvo Reman

Genuine Volvo Parts
Genuine Volvo Parts offer the highest quality and guaranteed performance for your Volvo machine. Every part is vital for uptime and performance. So why take a risk? Use only parts and products that have been specifically developed, tested and approved for optimal function – a key to reduced owning and operating costs.
Volvo quality
Helps maintain the high quality and performance of your machine, protects other components and keeps the systems intact, so that you can get the very most out of your original investment.
Tested and approved
Comprehensive tests and an uncompromising approval process ensure high Volvo quality standards for enhanced operational safety and peace of mind.
Global dealer network
Ensures that Genuine Volvo Parts are available anytime, anywhere. This helps minimize downtime so that your machine is ready to perform when you need it most.
Extended service intervals
Guaranteed reliability helps extend service intervals and significantly reduces the chances of repeat issues for increased machine uptime and cost savings over the long run.
Comprehensive warranty
Covered by a comprehensive 1-year warranty for your peace of mind.

Simply put, only Genuine Volvo Parts give you the quality and availability your machine depends on.

Volvo Lubricants protect your machine
Volvo Lubricants are developed specifically for your Volvo machine. Volvo Lubricants give you high and consistent quality – so that your machine runs longer, better and cleaner!
Lubricants are vital for your machine, and critical for the system as a whole. Volvo Lubricants:
· Improve performance of individual components
· Exhibit superior protection from wear and tear, prolonging component life
· Extend the service life of your machine
· Reduce fuel and oil consumption
Our range of engine oils, hydraulic oils, axle and transmission oils are specifically matched to the components of the machine. Our range of greases has been carefully developed to prevent unnecessary wear.

With regular use of Volvo oil analysis* you also get important information enabling you to plan component changes in good time before problems occur. This way you lower the risk of expensive damage and downtime.

For carefree ownership with maximum uptime of your machine, please take a look at our Customer Support Agreements. Here genuine Volvo Lubricants as well as genuine Volvo Filters are central features.

Volvo Undercarriage
Volvo undercarriage parts are developed by Volvo engineers as part of a complete system for your Volvo construction equipment.
They have been subjected to the toughest tests to be able to withstand extreme stresses over and over again. Our design and choice of material guarantee superior performance. Quality always pays off in the long run!
Product range
Volvo offers a full range of undercarriage parts, all developed and tested to assure that they live up to your highest expectations.
The undercarriage parts are designed specifically for your Volvo construction equipment. This gives you a safe and effective operation, a long productive service life and low operating costs.

Rubber tracks
Volvo Rubber Tracks meet the highest standards of safety and quality. You can rely on superior durability, long life and comfort.The rubber tracks have been developed in conjunction with Volvo construction machines. To meet your high expectations of top performing machines!Please contact your Volvo dealer to learn about Volvo Undercarriage parts and how to maximize the performance of your Volvo machine.
The Powerful Tooth System from Volvo
Volvo Tooth System gives you optimized long change intervals, high productivity and profitability.
We offer specialized patented teeth and adapters for all types of applications. High quality parts that lower your total cost of ownership and maximize the performance of your machine.
The Tooth System is a result of our relentless commitment to innovation and development. Our teeth have undergone extensive field testing in various types of materials and applications to analyze and ensure high quality and good characteristics.

Why use Volvo Tooth System?
Easy to fit
The vertical locking device makes mounting and removing fast and easy. It is completely integrated in the adapter body for protection and longer service life.
Volvo teeth withstand high stress levels
A perfect fit between the tooth and adapter, together with large stabilizing surfaces, provides a very strong unit to withstand high levels of force and stress.
Self-sharpening
The self-sharpening design and strategically placed wear material give maximum wear life, with maintained performance.
Resistant to forces
The edge of the adapters and teeth have an acute angle that gives perfect resistance to frontal forces and reduces the risk of "tooth box" opening.
Please contact your Volvo dealer to learn more about Volvo Tooth System and how to maximize the performance of your Volvo construction equipment.

Volvo Reman – Remanufacturing Services
Volvo Reman, our range of remanufacturing services, will keep your machine running for a long time to come – while helping to reduce owning and operating costs.
The better the quality of your components, the more you get from your Volvo machine.
Every part is vital for uptime and performance. So why take a risk?

Keep your machine a Volvo
With a Volvo Reman component you can look forward to a perfect fit and quick exchange. Your machine can get back to work in no time.The old component is sent to a Volvo Reman facility. If it meets Volvo quality standards, it is remanufactured and tested by specialists to become a Volvo Reman component.So keep your machine a Volvo, while doing the environment a favor by giving new life to old components.Simply put, Volvo Reman gives you the quality and availability your machine depends on.